The Infiniti QX80 Monograph Previews The Brand's Range Rover Fighter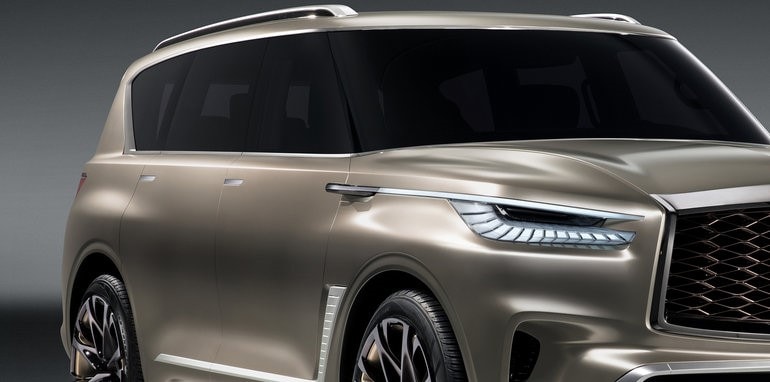 Infiniti has revealed the first look of its QX80 Monograph, a new design study exploring 'upscale luxury' and previewing the brand's Range Rover fighter. Here's what the Japanese brand has to say about the Monograph concept:
The new concept combines luxury with a commanding presence, and demonstrates the high levels of space and utility for which the QX80 production car is renowned. Originating at Infiniti's design studio in Atsugi, Japan, the QX80 Monograph is the ultimate expression of futuristic luxury SUV design and illustrates how the design of Infiniti's QX80 could evolve.
See complete article HERE
Posted Friday, April 7, 2017
INFINITI launches INFINITI LAB in Toronto to Accelerate Internet of Things Technology
INFINITI is the first car brand to launch accelerator program for Canadian startups
Builds on successful Accelerator programs in Hong Kong for Smart Cities & Internet of Things startups
Startup companies from Canada can apply now here
Toronto and Mississauga, Ont. – Today, INFINITI announced the Toronto launch of INFINITI LAB, the luxury car brand's technology accelerator program designed to grow companies focused on Internet of Things (IoT) and smart city initiatives. The Toronto program is produced in partnership with Multiplicity, a Toronto-based nonprofit that provides education and mentorship to startups. INFINITI LAB launched in Hong Kong in 2015, and this is the first time INFINITI has expanded the INFINITI LAB program into North America. It's also the first startup accelerator launched by a car brand in Canada
"Canada is brimming with talent and opportunity when it comes to start-ups, and INFINITI Canada is proud to help accelerate the country's next entrepreneurial stars," says Stephen Lester, managing director of INFINITI Canada. "Multiplicity is the ideal partner for the launch of INFINITI LAB Toronto. Parallel to INFINITI, they do not wait for change to come to them, they are the change. They drive the ideas that will make a tangible difference to our daily lives."
Applications for INFINITI LAB Toronto open today, and the program is open to pre-seed startups who work in IoT and smart city innovation. The program launches May 29th, and the group of selected startups will work closely with corporate and industry partners including: Techstars; OMERS Ventures; TELUS Ventures; the City of Toronto, and Fleet Company, who will provide the participants with access to technology, mentorship and education throughout the month-long program. INFINITI LAB Toronto will culminate in a demo day, with participating startups pitching to a panel of Canada's top venture capital firms. The top team in the Toronto program will be fast-tracked into the three-month Hong Kong program, which launches in July.
To read more, click HERE
Launch of the new 2017 Q60 and QX30 at Infiniti Downtown
On Friday, September 16, 2016, Infiniti Downtown was pleased to host an event to launch the completely redesigned Q60 Coupe and the first-ever QX30.
With General Manager Dimitri Pressman and DAG CEO Shahin Alizadeh, guests were delighted with the unveiling of these two new Infiniti vehicles with their bold and aggressive designs.
As a finale to the evening, one of our guests - who was been driving an Infiniti for almost 30 years - was the lucky winner of a Bose Wave Radio.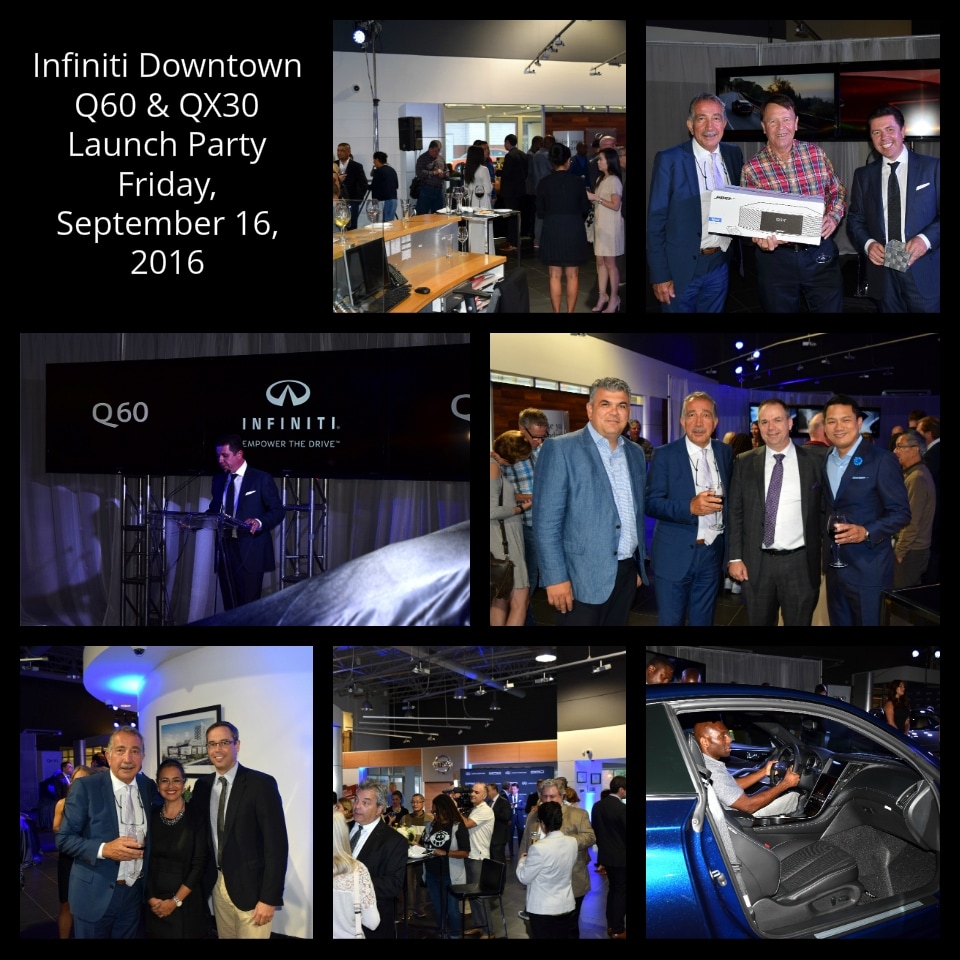 The 2016 QX50 Launch Event
On Thursday October 8th, the new 2016 QX50 was unveiled at Infiniti Downtown. The event was attended by customers, representatives from Infiniti, and host of other invited guests.
The event was an overwhelming success and attendees were impressed with the sleek styling and new technological innovations that Infiniti has incorporated into the 2016 model of the QX50.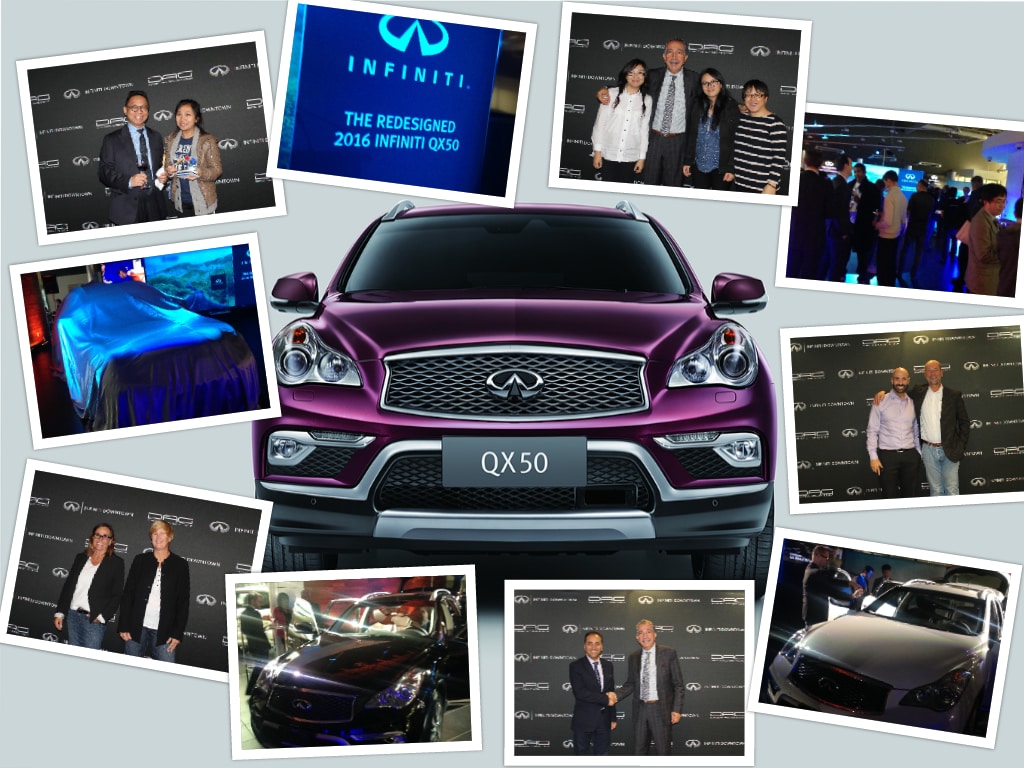 Infiniti Downtown partners with the Royal Canadian Yacht Club in August 2016
For the first time ever, Infiniti Downtown partnered with the Royal Canadian Yacht Club by sponsoring the Royal Weekend regatta and the 8m Worlds regatta - both hosted at RCYC.
The events took place over three weekends in August and provided for some amazing nautical skillsets to be displayed. This very unique partnership also provided a spectacular backdrop for the debut of Infiniti's first-ever QX30 luxury crossover.
We thoroughly enjoyed the time spent on Toronto Island, home of the RCYC, and appreciate the opportunity for us to engage with the members & spectators who attended these world-class racing events.
Check out the event video
here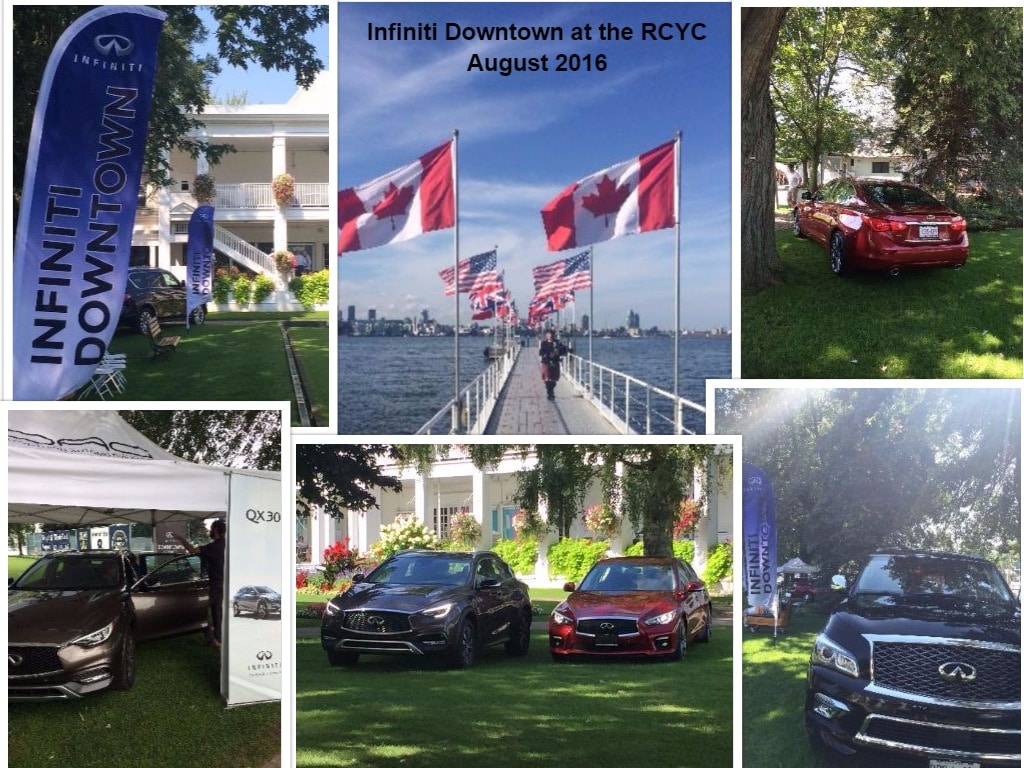 INFINITI Q30 CONCEPT - UNVEILED IN EUROPE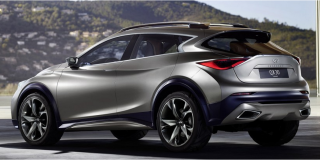 Automotive News
March 8, 2015 - 12:01 am ET
GENEVA -- Infiniti's QX30 crossover concept, unveiled here last week, should boost the brand's sales in North America and Europe, but it also will help Infiniti expand its dealer body in markets outside North America.
"It's a very good business proposal for dealers who are interested in investing in dealerships with Infiniti of Europe," says Roland Krueger, president of Infiniti Motor Co. worldwide. "This model gives us access to a volume base that we couldn't previously offer to our business partners. We're seeing investors come forward to talk to us now."
Infiniti officials met with retailers at its Geneva show stand to discuss dealership opportunities and inspect the new crossover, which will reach showrooms in 2016.
The brand also has been working with its U.S. retailers to make sure the new Q30 compact hatch launches correctly in the United States late this year, followed by the QX30 crossover, its sister model, next year.
Compact crossovers are a growing segment in the U.S., but they represent some of Europe's biggest volumes, for both mass-market and luxury lines. Until now, Infiniti has been absent from the segment.
"Everybody's targeting that segment," Krueger says. "It's an important source of sales for us, for conquesting and upgrading, as consumers move up from mass-market brands."
Infiniti's global sales rose 14 percent last year as it worked to expand its presence outside the United States to the U.K., Germany, Russia, China and other markets. It sold 68,870 vehicles outside the U.S. last year.
The brand remains little known in some luxury markets, such as Germany, where it has just six dealerships.
Krueger says Infiniti will be adding more dealers in Europe -- Germany in particular -- in the coming year. He broke away from the show to visit an Infiniti dealership and service center that was under construction in downtown Geneva. That outlet will become Infiniti's 67th European store.
---
INFINITI Q60 COUPE CONCEPT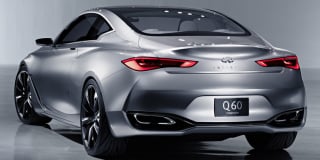 Over the past couple of years, Infiniti has set about re-establishing itself as a maker of premium performance cars. Major moves included moving its headquarters from Japan to Hong Kong and introducing a completely new design language and naming strategy. Then came the first of a new generation of Infinitis, the Q50, and sales have never been better, with the brand selling a record 186,200 cars in 2014.
That tally is almost certain to rise as a raft of new models are introduced over the coming years. We've already been given a preview of some of these in the form of the Q30 and Q80 inspiration concepts; now, we're being treated with a preview of the next-generation Q60 coupe in the form of a thinly-veiled concept at the 2015 Detroit Auto Show. The production version is due in showrooms this fall, as a 2016 model.
Photos of the Q60 concept have already hit the web, but now we have the all-important details, including some of the powertrain specs. The Q60, for those still not up to date with Infiniti's new naming strategy, is essentially the G coupe, whose last complete redesign was back in 2008. The new design is much more impressive and finally provides the Q60 with a powerful presence to match the solid performance the car is renowned for.
2016 Infiniti Q60 concept, 2015 Detroit Auto Show
Responsible for the design is Infiniti creative director Alfonso Albaisa, who is particularly fond of the car's muscular character line that runs from the grille all the way to the rear. The designers also emphasized the wheel arches to give the Q60 an athletic profile, and filled these with massive 21-inch wheels with contrasting black and silver spokes. The length of the concept is 184.6 inches, which is exactly two inches longer than the BMW 4-Series, one of the Q60's main rivals.
The same sporty theme of the exterior extends inside; here, we see a 2+2 layout and a luxurious, hand-crafted look and feel. The seats are trimmed in quilted leather and around the rest of the cabin are Alcantara and carbon fiber accents to emphasize the car's performance edge. Many of the vehicle functions are controlled via a touchscreen and the Infiniti InTuition system, the latter of which works with the vehicle's key to recognize the vehicle settings for up to four different drivers, including preferences for driving position, heating and cooling, audio, navigation, telematics.
The Q60's platform is an aluminum unibody structure believed to be derived from the one in the Q50. Though mostly aluminum, some high-strength steel is featured in the structure and Infiniti says some carbon fiber has also been used for the body, though it's not clear if this will feature in the production model.
2016 Infiniti Q60 concept, 2015 Detroit Auto Show
As expected, the powertrain is a new twin-turbocharged 3.0-liter V-6 that was first previewed in the Q80 Inspiration concept. Output hasn't been mentioned, but we know the powertrain delivers as much as 550 horsepower and up to 553 pound-feet of torque when paired with a hybrid system. Infiniti says the production Q60 will be available with a seven-speed automatic transmission with paddle shifters, as well as rear- and all-wheel-drive configurations. The automaker's troubled Infniti Direct Adaptive Steering by-wire system, which is said to offer better feedback than a conventional hydraulic setup, will also be featured.
---
THE HUMAN CHALLENGE IN F1
As Title Partner of the team, Infiniti is successfully using Formula One to deliver world-class performance throughout its people, processes and technologies.
The focus on people has harnessed a belief within Infiniti that Formula One is about more than the drivers and state of the art technology; it is equally about the people who work tirelessly behind the scenes to produce a car that gives Infiniti Red Bull Racing the best chance of scoring points, winning races and competing for Championships.
To showcase these Team members and the challenges they face, Infiniti have produced a 19 part video series, one episode for each race, which takes a behind the scenes look at some of the people working here at Infiniti Red Bull Racing. Ahead of each race, Infiniti will preview a different role within the Team and examine the specific challenge that that individual faces in their particular role.
To watch the clips which have been released so far, head to the Infiniti website here. See the most recent release below.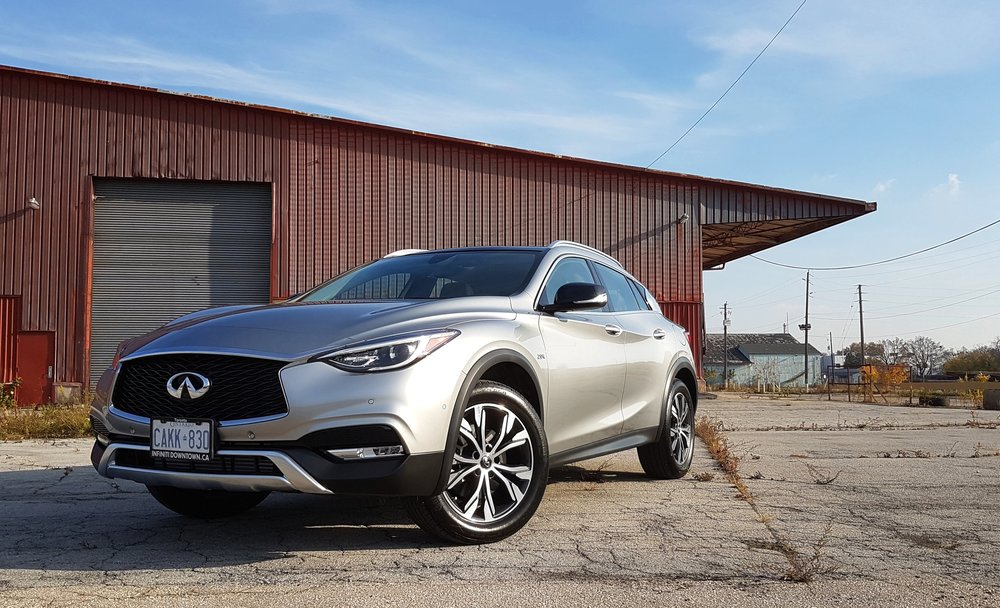 As always, we begin with a history lesson:
Infiniti started selling luxury cars in North America in late 1989, and has worked hard to establish an identity since then. It launched with the extremely high-tech Q45 full-sized luxury sedan, which featured a 278hp 4.5 Litre V-8, four-wheel-steering, an active suspension, and a design that made its rivals from Germany look like wooden carriages. It was a bit ahead of it's time, and Infiniti's early marketing was, um, a bit high-concept, with some ads not even picturing the car. This was a big problem, of course, since nobody knew what Infiniti was.